I visited a property in Bromsgrove with a view to completely re-modernising an existing bathroom.
As the room was very small the client wanted an existing studded shelving unit removed and reduced in size.  The bath was going to be replaced by a shower unit, and the radiator needed to be moved.
I estimated that it would take 5 days to complete, bearing in mind this was the only toilet in the house and I needed to be able to put the old toilet back in every day so the customer had some services during the evenings.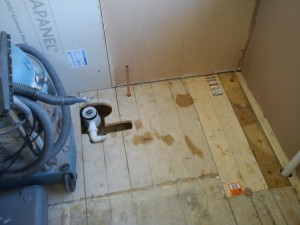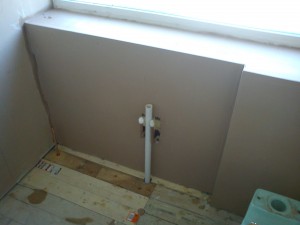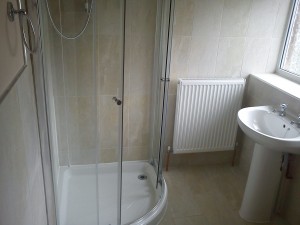 As you will see from the pictures, I built a reduced shelving unit and plastered this prior to tiling.  As the owner of the house was limited in her DIY skills and tools I altered and re-hung her blind, and attached all bathroom accessories to her specification.
This is what the customer had to say about my work and her bathroom:
"I was very impressed with Adrian's work after he was recommended to me by my sister after he had installed Gas Central Heating in a flat which she owns. He gave me a quote to dismantle my bathroom and to refit a shower room which was well within my price range.

I found him to be a very pleasant, trustworthy and a very hard worker, always clearing up as he went and I would have no hesitation in recommending him as I found his work to be first class.
From a very satisfied customer." Hilary Savill (Sept 2010)